Local 120 was chartered on November 7th, 1908. Laborers' Local 120 is an affiliate of the Laborers' International Union of North America. Local 120 represents Building and Heavy Highway Construction laborers.
Laborers' Local 120 has a long proud history of representing men and women of Marion County and Shelby County. Laborers' Local 120 represents more than 2,000 men and women in the construction industry.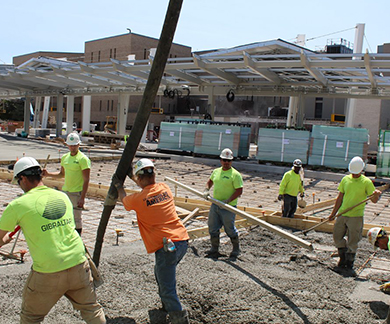 Local 120 has been involved in several major projects; Indianapolis International Airport, Lucas Oil Stadium, JW Marriott Hotel and Eskenazi Hospital. Our Recent projects include the Cummins Headquarters in downtown Indianapolis, Indianapolis Motor Speedway, St. Francis Hospital, Community East Hospital and the Dig Indy Tunnel Project.
LiUNA! Members are the leading advocates for Building America's Infrastructure always maintaining our buildings, roads, bridges, waterways, tunnels, and dams. LiUNA! provides a  safe, skilled, productive, and diversified workforce to those wanting to join a skilled labor trade.
Local 120 officers and representatives are individuals who are committed to serving our membership in securing a safe work environment, honest days pay for an honest days work and in helping them reach their retirement goals. We understand our members because every single one of us comes from the field. We all have worked in the ditches as laborers, foreman, and superintendents.
Chris Brickey
Business Manager/Secretary Treasurer
Marty Corpuz
President
Jesse Suarez
Vice President
Kendrick Coleman
Recording Secretary
Steve Messmer
Field Representative
William ``Billy`` Fletcher Jr
Executive Board Member
Kyhuma Castrejon (Q)
Apprenticeship Coordinator
Heather Hale
Office Manager
Andrea Felix
Administrative Assistant
Vincent Hoosier
Executive Board
Paul Sherlock
Sergeant of Arms
Antjuan Jeffereson
Auditor